| | |
| --- | --- |
| | This page is about a past event, feature, or other object that has been removed from Habbo. To maintain the article's accuracy, please avoid adding new information that isn't sourced. |

"
I am greatly saddened that following reports of abusive behaviors amongst a very small part of the Habbo community we have taken the decision to mute all conversations across the site.
"

— Paul LaFontaine, former CEO of Sulake
---
The Great Mute (also known as the Channel 4 Protest) was a Habbo-wide mute that occurred on Wednesday, June 13, 2012 in response to a news report by United Kingdom news program Channel 4 that revealed sexual allegations about Habbo.[1] The mute affected all Habbo communities around the world and prevented any conversations from happening through the main chat interface, the minimail, and console.
On June 19, CEO of Habbo Paul LaFontaine announced plans for the "Great Unmute", which would include a new limit chat system as well as an overall update on moderation.
The limited chat system underwent beta testing on international hotels on June 21. On July 6, the final community, Habbo.com, received limited chat, marking the end of the mute. It was also announced on July 17 that free chat would be slowly coming back, and on August 2, Habbo.com became the last community to get it.
Events prior to the mute
Changes to the Habbo Way
On June 5, changes were made to the Habbo Way - the guidelines by which everyone is required to follow.[2] The new Habbo Way now focuses on three core values: friendship, the community, and respect.
On June 2, a blog post cleared up confusion regarding sexually explicit behaviour and the new Habbo Way.
"
We do not promote or allow explicitly sexual content. Cybering and cam requests are strictly forbidden in Habbo.

Any person caught engaging in cybering (meaning: talk simulating sex) in Habbo will be muted immediately as a warning. Repeat offenders will be banned.

Any person caught trying to solicit someone to leave Habbo for camming on other sites will be banned.

Any room that is set up to clearly signal cybering activities will immediately be shut down.

"

— "Cybering Is Not The Habbo Way", Habbo Blog post
Channel 4 investigation
A two-month investigation led by Channel 4 found that pedophiles regularly used Habbo to engage underaged children in sexually explicit chat. Anchors from Channel 4 went undercover and entered Habbo posing as an 11-year-old girl. Immediately after registration, several sexual encounters were made, including webcam requests.
The news report aired on British television on the evening of Tuesday, June 12, one day before the mute.
A YouTube video of the news report can be found at the External Links section.
Staff response
Throughout the mute, Paul LaFontaine and other Sulake employees have been working on a plan to reintroduce the chat system while keeping it safe. Updates have been sent through the Habbo blog and official Twitter accounts.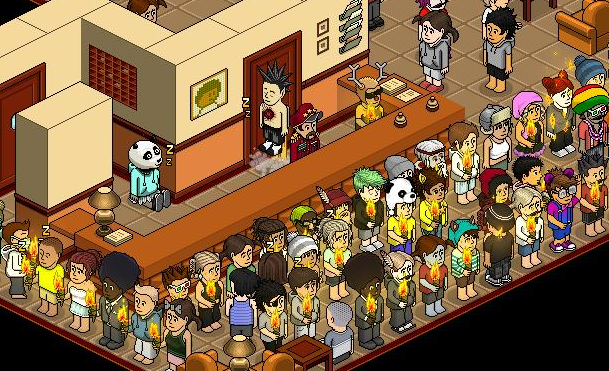 Community response
Despite criticism for the mute, Habbos all over the community have shown their support for Sulake by equipping candles and standing in formations in certain rooms;[3] mainly the Welcome Lounge and occasionally the Theatredome. As a result of these "protests", the room limit was increased from 100 to 140 to accommodate protesters.
Habbos that entered the Welcome Lounge were polled about their opinions about the events. Those that answered were given a badge to recognize their support. A few were given trophies. You can not currently receive this badge though.

- The Torch Badge

- The Trophy
The Great Unmute
On June 15, two days into the mute, Paul announced "The Great Unmute", a campaign that allows Habbos to have their say, telling Sulake what they want to see in Habbo.[4] Paul described this event as a "conversational tidal wave" and its purpose to "[show] the world that our global community contains millions of responsible and proud users who have a positive experience on our site."
On June 19, the Great Unmute became official as a new website, http://www.thegreatunmute.com, opened to the public. The site opened on Wednesday at 14:00 UK time for six hours. It allowed Habbos to openly voice their concerns and opinions to Sulake. Habbos were given questions to answer ("What does your community mean to you?", "How do you feel about the recent news?", "How can we improve the site in the future?") and could answer them in text form or through multimedia - photos and video clips.[5] The site reached over 12,000 comments expressing themselves about Habbo in 11 unique languages.
When the six hour period ended, www.thegreatunmute.com became a testament to the positive experiences made by the community.
Side note: After the blog post on June 21 ("Response to the Great Unmute and a New Era of 'Protected Democracy' for Habbo Hotel"), Paul began referring the website as "The Great Unmute", while the actual unmuting process as "The Great Go-Live". On this article and the rest the wiki, we will continue calling the unmuting "The Great Unmute".
After seeing the massive amount of responses to The Great Unmute, Paul LaFontaine described a new concept called "protected democracy" which would allow a regulated environment that protects free speech while keeping the community safe.[6]
Parental Advisory Summit
On June 28, Sulake introduced the Parental Advisory Summit, a campaign that allows parents to participate in discussions regarding safety.http://blog.habbo.com/2012/06/28/parental-advisory-summit-launches-and-chat-is-re-activated-in-4-hotels/ Parents could apply (with users also nominating parents) and Sulake will select two parents from each of the ten countries to create twenty members. The summit would involve a three-day online forum facilitated by senior managers of Sulake.
Safety updates
According to another the blog post published on June 26, these safety measures are also planned:[7]
A required test to ensure responsible use will need to be written by all users before re-entering the site.
Tracking measures to confirm the identities of Habbos and their real life owner.
More moderators present in a higher range of rooms.
Guardians, a virtual police force in which community volunteers can qualify for. They would be able to support information requests so moderators are able to handle emergencies.
All users beginning on the limited chat and earning their way up to full chat by responsible socialization.
Basic level algorithmic chat solution to alert moderators to inappropriate content.
Increased prominence of emergency button to encourage active use.
Guardians
In response to community feedback requesting the revival of the Hobba program, Sulake decided to introduce Guardians.[8] An extension of the Habbo Helpers program, Guardians will be "trusted members of the community who can perform limited actions to resolve situations." They will be able to provide information and general help while letting moderators and staff members to handle emergencies and urgent requests.
Limited chat system and the end of The Great Mute
History and concept
Habbo Finland underwent a testing stage for the new chat system on June 21.[9] The new system would consist of pre-approved phrases and words that Habbos would only be allowed to say. Any words not on the list would not be said.[10] This is stated to be temporary and full chatting would be reinstated afterwards.
Spain and Brazil had their chat systems updated a few days after Finland and would provide a representative sample of users to make sure the system works efficiently. Germany, France, Italy, and Dutch hotels received the chat system on Friday, June 29.
On July 3, Norway, Sweden, and Denmark got the new chat.
Finally, on Friday, July 6, Habbo.com became the final community to adopt the system.[11] This officially marked the end of The Great Mute.
How it worked
The limited chat system worked by essentially filtering words - words that are friendly and neutral (e.g. "hello", "you", "Habbo") are whitelisted and words that aren't allowed (e.g. swear words) are blacklisted. This meant users could only say pre-approved words that are on the white list. If a user were to say a word that's not permitted, it appeared in the speech bubble as three black padlocks.
While typing, words that could be said appeared in a normal font, while words not allowed were underlined and coloured red.

A few examples of words/phrases that were not allowed are:
Swears, however, mild swears like damn, crap, and dumbass can be said.
Words of a sexual nature
Certain names. Some names, like Matt, Julia, Brian can be said; Amy, Paul, Ian can't. One unusual glitch is that differences in the spelling can decide whether or not it will be blacklisted (e.g. Joe isn't allowed but Joey is; Stephen isn't allowed but Steven is).
Numbers, both in their numeric and written form. Most likely to prevent users from revealing their age. An exception to this is numbers 1-10 in written form (one, two, three...) are allowed.
Individual letters of the alphabet.
Random strings of letters E.g. fdjgsdfhgskdgf.
To be able to begin chatting, users must take a safety quiz which tests their knowledge of the Habbo Way and responsible behaviour.[12] Players read a mini booklet with contains information about safety. The actual quiz consists of 5 scenarios with multiple-choice answers. A perfect score of 5 out of 5 is required to pass and begin chatting.
Players must also prove they are capable of free chat by spending enough time on limited chat. Afterwards, it's the player's responsibility to not engage in inappropriate behaviour. Those who do will be asked to start over from the beginning.
Criticism and issues
Despite having the ability to somewhat talk, the limited chat has been heavily criticised by the community, especially those saying it's inconvenient and not necessary. Many have started to compare Habbo to Club Penguin and other MMOGs that use limited chat systems.
Because it was relatively new, many problems were found regarding legitimate words being blocked. An example was the names issue described above, contractions (e.g. won't, don't, can't) due to that single letter - this was solved by removing the apostrophe, and certain place names (e.g. Vancouver, Miami, Greenland). Random, clean words seemed to be blocked also, such as their, aid, haircut, and volume.
The most likely explanation for these problems may come from the fact that the system is generally new and hasn't been fully developed to accept all words in the language. To combat this, Habbo provided a way for users to suggest words to be added to the white list by going to the Picnic room and participating in the pop-up poll.[13]
Transition from limited chat to free chat
On July 17, approximately 16 days after Habbo Finland first received limited chat, it was revealed that free chat would be returned to Habbo.[14] The gradual process was the same as limited chat, with Habbo Spain starting off that Tuesday as a pilot, followed by France and Brazil on Thursday, July 19. Other international hotels planned to have free chat that following week.
On August 2, Habbo.com became the final community to receive free chat. In all hotels new players must still, however, take the safety quiz to be able to chat.
To celebrate this transition, Habbo Staff threw hotel-wide parties. And the users that attended these parties got a badge from the Habbo Staff hosting the party. A specific goal for having a number of players online at the same time for each community was set (e.g. 6000 for Habbo.com), and when completed, players could win a badge, a rare trophy, and a week of free VIP.[15] If a community did not reach the goal in time all users just got a Frank Trophy in a present.
Effects of the Channel 4 investigation and The Great Mute
Media relations and controversies
It was revealed by Paul LaFontaine that media outlets had begun offering cash incentives to users that would provide information about their experiences on Habbo, mainly those involved with sexually explicit behavior.
As a result of the news report, many companies that sponsor Sulake began withdrawing their support and funding. Examples of such companies include Balterton Capital and 3i. Some retailers in the United Kingdom stopped selling prepaid cards that are used to buy coins.
Sulake stated they would not speak directly to the media, but emphasised that the issues are a challenge for every social media community and hoped that they would encourage other communities to reconsider the safety of its users.
Population decrease
It has been confirmed that Habbo has experienced a staggering decrease in population numbers with many users quitting Habbo due to the mute. This could be seen at the landing page when the number of users online fell from an average of 5000 prior to the mute to an average of 1200 users.
VIP
Due to the inability to talk, most players began to worry that their VIP days would run out before the mute would end. This point has been one of the main criticisms caused by the mute. However, it was in one of Paul LaFontaine's tweets that VIP days would be compensated, meaning lost days would be replaced for free. This has been confirmed in a minimail and done the day the mute ended.
Other affected features
Features allowing communication with one another were also affected by the mute. This includes:
Older Group and Group

forums

.
Sticky notes and message boxes remain unavailable.

Events

Ability To Add another Character to your account.
Ability to change Motto from client.
Ability to turn off the Word Filter.
*A strikethrough indicates the features has been returned.
It is possible, that any features still removed, will never return.
Gallery
External links
Chronological list of Behind The Pixels blog posts
References