You can read the Habbo article here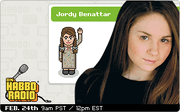 In The Habbo News
Jordy Benattar (The Spiderwick Chronicles) on Habbo Radio, February 24, 2008 at 12pm EST/9am PST. Have you seen The Spiderwick Chroniclesyet, or enjoyed our Spiderwick Furni and Stickers? If so... then you're gonna LOVE this:
One of the film's STARS, Jordy Benattar, visited both Habbo.com & Habbo.ca on February 24, 2008! She played Young Lucinda in the film, who is Arthur Spiderwick's daughter.
We had a great time with Jordy when she came in for a radio interview with Teetoo & Puffin. Below are some pictures from her visit.