Hand items are special items that appear in your Habbo's hand to represent food, drinks, or objects. These hand items can be obtained from many different pieces of furniture within the hotel, such as a fridge or a sink, or from a bot in an Official Room. While players themselves cannot interact with them, Habbos will bring the item to their mouth and eat/drink it, or simply hold it. One exception to this was the Camera, in which it was possible in Old Habbo to actually take pictures while holding it.
Passing hand items
Edit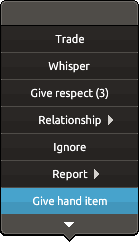 As of December 7, 2010, it's possible to "pass" (i.e. give) your hand item to another player. This is done by clicking another user and, on the tab that pops up, clicking "Give Hand Item". Habbos will walk to that specified player and give them their item.
There have been reports of a bug that says you are carrying a hand item with a number in the infobox (e.g. "Carrying: HANDITEM01"). However, there are still many items that display its correct name. There is another bug with some of the hand items, which causes them to be invisible in your hand.
Complete list of hand items
Edit
An "N/A" under the Received from column means that either the drink has the standard image and it's hard to track down with the looks of it, or the hand item is from an unreleased furni.
Name
Item # (bug/code number)
Received from?
Image
Tea
1
- Japanese Tea Maker
- Fridge
Juice
2
- Fridge
- Minibar
Carrot
3
- HC Minibar
- Fridge
- Black Hole
Ice Cream
4
- Ice Cream Machine
- Fridge
Milk
5
- Fridge
Black Currant
6
- Fridge
- Minibar
Water
7
- Sink
- Refrigerator
Coffee
8
- Espresso Machine
- Mochamaster
Decaff
9
- Espresso Machine
- Mochamaster
Tea (Alternative)
10
- Espresso Machine
- Mochamaster
Mocha
11
- Espresso Machine
- Mochamaster
Macchiato
12
- Espresso Machine
- Mochamaster
Espresso
13
- Espresso Machine
- Mochamaster
Black Coffee
14
- Espresso Machine
- Mochamaster
Iced Coffee
15
- Espresso Machine
- Mochamaster
Cappuccino
16
- Espresso Machine
- Mochamaster
Java
17
- Espresso Machine
- Mochamaster
Tap Water
18
- Sink
Habbo Cola
19
- Habbo Cola Machine
- Frank
Fizzy Lemon [Old]
19
- Mountain Dew Machine
Camera
20
- Camera
Camera [Old]
20
- Camera
Hamburger
21
- Hamburger
Lime Habbo Soda
22
- Bot
Beetroot Habbo Soda
23
- Bot
Bubble juice from 1978
24
- HC Butler
Love potion
25
- Love Cauldron
Calippo
26
- Calippo Ice Cream Machine
Tea [Old]
27
- Tea Maker
Sake
28

- Japanese Tea Maker

- Black Hole

Tomato Juice
29

- Bloody Sink

- Mini Fridge

- Black Hole

- Habbo Mall Kiosk

Radioactive Liquid
30

- Bot

- Mini Fridge

- Habbo Mall Kiosk

Pink Champagne
31
- Bot
Coconut Delight
32
- Bot
handitem33
33
- Bot
Fish
34

- Ice Fishing Hole

- Habbo Mall Kiosk
- Black Hole

- Kitchen Inspector

Pink Champagne
35

- Party Tray

- Elephant Minibar

Pear
36

- Kitchen Fridge

- Mini Fridge

- Habbo Mall Kiosk

Apple
37

- Kitchen Fridge

- Mini Fridge

- Habbo Mall Kiosk

Orange
38

- Kitchen Fridge

- Mini Fridge

- Habbo Mall Kiosk

Pineapple
39

- Kitchen Fridge

- Mini Fridge

Fizzy Orange
40
- Drinks Table
Sumppi-kuppi
41
- Bot
Orange Crush Soda
42
- Orange Crush Machine
Chilled Soda
43
- Ice Box
handitem44
44
- Astro-Bar
handitem45
45
- The Moodi Machine
handitem46
46
- The Moodi Machine
Moodi
47
- The Moodi Machine
Lollipop
48

- Chups Machine

- Candy Market Stall Insert

handitem49
49
- Grefusa Machine
Cider
50
- Big Purple Fridge
handitem51
51
- Grefuse Machine
handitem52
52
- Cheetos Machine
Espresso [Old]
53
- Espresso Machine
handitem54
54
- Choco Box
handitem55
55
- Pepsi Machine
handitem56
56
- Cheetos Machine
Cherry Crush Soda
57
- Cherry Crush Machine
Cup of blood
58
- Zombie Butler
- Black Hole
handitem59
59
N/A
Chestnuts
60
- Chestnut Roaster
handitem61
61
- Sunny D Machine
Skull Cup of Water
62
- Gothic Fountain
Popcorn
63
- Popcorn Machine
Green Can
64
- Gooey Sink
Spray Can
65
- Spray Cans
Banana Smoothie
66
- Banana Drink Machine
Blue Gumball
67

- Blue Gumball Machine

- Candy Market Stall Insert

Red Gumball
68

- Red Gumball Machine

- Candy Market Stall Insert

Green Gumball
69

- Green Gumball Machine

- Candy Market Stall Insert

Turkey Leg
70
- Turkey
- Black Hole
Toast
71
- Toaster
- Black Hole
handitem72
72
N/A
Egg Nog
73
- Egg Nog Barrel
Toasting Goblet
74
N/A
Strawberry Ice Cream
75
- Ice Cream Stand
Mint Ice Cream
76
- Ice Cream Stand
Chocolate Ice Cream
77
- Ice Cream Stand
Hand Item 78
78
N/A
Pink Cotton Floss
79

- Cotton Candy Stand

- Cotton Candy Tree

Blue Cotton Floss
80
- Cotton Candy Stand
Hot Dog
81
- Hot Dog Stand
Poisioned Apple
83
N/A

Cupcake
89
- Cupcake Tray
N/A
handitem92 to handitem999
107 to 999
N/A
Rose
1000

- Roses

- French Flower Cart

Black Rose
1001

- Black Roses

- French Flower Cart

Sun Flower
1002

- Sunflowers

- French Flower Cart

Little Read Book by Kitano
1003
- Bookcase
Moby Dick by Herman Melville
1004
- Bookcase
My Achievements by Neja
1005
- Bookcase
- Frank
Gift Flower
1006

- Dock Leaf Bush

- French Flower Cart

Jimson Weed
1007

- Jimson Weed

- French Flower Cart

Yellow Delight
1008

- Yellow Delight

- French Flower Cart

Pink Pandemic
1009

- Pink Pandemic

- French Flower Cart

handitem1010
1010
N/A
Clip Board
1011
- Hospital Cabinet
handitem1012
1012
N/A
Painkiller
1013

- Hospital Cabinet

- Black Hole

Syringe
1014

- Hospital Cabinet
- Black Hole

Biohazard Bag
1015
- Hospital Cabinet
- Black Hole
handitem16
1016
N/A
handitem17
1017
N/A
handitem18
1018
N/A
Bolly Flower
1019

- Vase of Flowers

- French Flower Cart

Handitem1020
1020
N/A
Hyacinth1
1021
- Blue Hyacinth
Hyacinth2
1022
- Red Hyacinth
Poinsetta
1023
- Poinsetta
Pudding
1024
- Holiday Pudding
Candy Cane
1025

- Candy Cane

- Santa Bot

Present
1026
- Gift Bag
Candle
1027
- Candle
handitem1028
1028
N/A
Balloon
1029
- Balloon Machine
- Black Hole
Paint Brush
1030

- Painting

- Black Hole

Habbo-lympix Torch
1031
- Habbo-lympix Torch
- Black Hole
Major Tom
1032
- Black Hole
UFO
1033
- Black Hole
Alien thing
1034
- Black Hole
Wrench
1035

- Fairground Grabber

- Black Hole

Gummy Duck
1036

- Duck Vendor

- Black Hole

Snake
1037
- Fairground Grabber
Stick
1038
- Fairground Grabber
Severed Hand
1039
- Fairground Grabber
Heart
1040
- Fairground Grabber
Squid
1041
- Fairground Grabber
Bat Excrement
1042
- Fairground Grabber
Magot
1043
- Fairground Grabber
Dead Rat
1044
- Fairground Grabber
Dentures
1045
- Fairground Grabber
Clearasil Ultra
1046
- Clearasil Vending Machine
handitem1047
1047
- Pile o' Balls
handitem1048
1048
ads_dtlrare name
1047+
1049+
N/A