---
Habbo Exchange, or simply know as "Exchange", is a special line of furni. Not only can you use this furni for decoration, but you can redeem it back for credits. Habbo Exchange was released in Winter of 2007.

As of April, 2013, furni from Habbo Exchange may be purchased with
Loyalty Points
in addition to credits. 10 Loyalty Points = 1 Coin. Increments of 1, 5, 10, and 20 Coins may be purchased through the program.
Only the owner of Habbo Exhange items may redeem them. However, trading transfers the ownership.
Furni
Note: Sapphires and Platinum Bars were released for a limited amount of time.
In addition to Credit-Redeeming furni, see: Small Ruby and Big Ruby.
Platinum Bar

Main article:
Platinum Bar

The Platinum Bar was released for the 2012 Easter season. At 500 credits, this was one of the most expensive items ever sold in the Shop.
"
Available for Easter! We're proud to introduce the Platinum Exchange! The all new Platinum Bar just screams "Look at me world!", this is definitely Furni to be flaunted, in a humble way, of course.
"

— Habbo, front page news
Tax

Main article:
Habbo Exchange Tax
In March 2010, Habbo added a tax to Habbo Exchange. After that, exchange furni cost 1 extra coin, except for the later released and limited time only, Platinum Bar. Tax has received high criticism. Later, in all hotels, a 5 pack of bronze coins was released only with only a 1 coin tax on the whole pack. This became the lowest tax rate until the 10 pack bronze coin deal was released.
Differences in Habbo China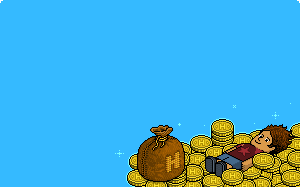 Habbo China used the same coins as every other hotel but with one slight change: all coins in Habbo China were a multiple of 10 of a regular coin or bar. (e.g. Every Bronze Coin was worth 10 coins and every Gold Bar was worth 500 coins). However, everything in the catalog was raised 10x to compare with the coins. This was most likely done to make realism on the furni's value. (When the China Hotel was created, The United States' Dollar (USD) or the Euro was worth about 1/10 of a Chinese Yuan Renminbi (China's currency). Some Habbo Retros use the code from the old Chinese Coins for larger value Gold Bars and Sacks of Coins to make trading faster for larger amounts of coins needed.
Sources
Community content is available under
CC-BY-SA
unless otherwise noted.