---

---
| | |
| --- | --- |
| | This page is about a past event, feature, or other object that has been removed from Habbo. To maintain the article's accuracy, please avoid adding new information that isn't sourced. |
Habbo Guides were experienced users who volunteered to welcome newer users to Habbo and explain its features. Originally known as the Welcoming Party, it was incorporated in the summer of 2008 to replace the Habbo eXperts.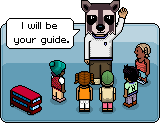 Overview
Contrary to popular belief, guides were not employees of Sulake and had no powers except for the ability to accept New User Requests and help new Habbos out. It was a more open group and anyone who has played longer than one month could join. Habbo Guides received special badges that signified their rank in the program. The more a guide helped, the higher level of badge they received. There was also a requirement for the welcomed user to stay online for a certain amount of hours in order to claim points and a badge.
Levels
| | | |
| --- | --- | --- |
| Level | Animal/Name | Badge |
| 1 | Bunny | |
| 2 | Bambi | |
| 3 | Otter | |
| 4 | Badger | |
| 5 | Fox | |
| 6 | Lynx | |
| 7 | Buffalo | |
| 8 | Bear | |
| 9 | Eagle | |
| 10 | Owl | |
| X | Wolf | |
Level X
Level X was the rarest of all the levels because it was the only level chosen by Habbo Staff. In order to become level X, players had to be a former Habbo eXpert, which even then there was only 2 to 3 people chosen for the position per hotel. Those who were chosen received the Wolf guide badge. There were no special powers given with that position and badge. The level X's were, however, granted admin rights to the official group page for Habbo Guides. They were more looked at as leaders and people to help other guides than anything else.
Discontinuation
When New Habbo was released, the Guides program was discontinued. In the Habbo Australia news, it was said by staff that they "don't expect the guide system to come back". However, those who were guides and received badges kept their earned badges.
Although not officially confirmed by staff, it can be assumed that the Habbo Helpers program replaced the Guides program.
Trivia
The game Matchwood uses the guide badge graphics.
See also
External links