"Freeze!.. and try the newest game to hit Habbo! Team up and plant snowball bombs to snap freeze your competitors. You could say it's so cool, it's frozen ;)"
---
For the Freeze Achievements see, Freeze Achievements. Freeze! is an official game released on December 15, 2010, this game was originally released by Habbo to compensate for the removal of Snowstorm. The game line has 13 different pieces of furniture.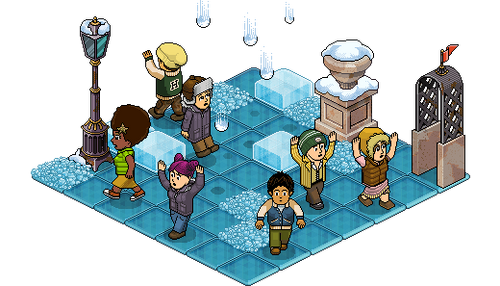 Rules
Choose a team. Red, Yellow, Blue, or Green.
Each team can have up to five players.
To place a Snowball, double click on the tile that you are standing on, or double click on a tile next to you.
Blow up Blocks for power-ups.
Team with the most points at the end of the each round wins.
Furni
fewewfefewfewfewfe Freeze! section of the catalog there are 12 different pieces of furni, to build your ultimate freeze game room.
Yellow Freeze Gate

- Blue Freeze Gate

- Green Freeze Gate

- Red Freeze Gate
Yellow Freeze Scoreboard
- Blue Freeze Scoreboard
- Green Freeze Scoreboard

Red Freeze Scoreboard

- Freeze Counter
- Exit Tile

- Freeze Geyser

Community content is available under
CC-BY-SA
unless otherwise noted.