---
---
Career
CrestHawk became the manager on June 27, 2007 of Habbo USA.
He has been criticized for his apparent prejudice against normal Habbos; some have said he responded only to Habbo Club and VIP members on his guestbook. However, this was only a common accusation.
Resignation
On 5/28/2010, it was announced that CrestHawk had resigned. The promotion, 8 Bit Trip was then revealed to be a farewell event of sorts for CrestHawk. A rumor circulated that CrestHawk was fired from hotel management due to the merge of the hotels.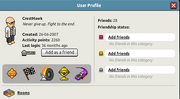 Trivia
He is a massive NASCAR fan and often hosted competitions related to the subject, e.g. predict the 2010 'Daytona 500' winner.
In an event around Valentine's Day 2009, CrestHawk was married in-Habbo to staff member and real-life spouse Moiraine. They have since divorced.
His top five favorite animes are Dragonball Z, Cell Saga, Samurai X, Tenchi Muyo!, Ronin Warriors,and Gundam Wing.
External links