Bobba Bar was a spin-off of Habbo Hotel, developed and published by Sulake. Unlike Habbo, Bobba was aimed at 17-year olds and above.
Description
Bobba Bar was launched in the Nokia OVI store and iTunes on November 2009 as a free application for Nokia smart phones and iOS users, and was put in place to replace the popular mobile phone game "Mini Friday". When the game was originally launched, it was known simply as "Bobba", but the name was changed to reflect the social-hangout themes of the application.
Rooms could also be created within Bobba Bar for a small cost.
Users had the option upon creating a room to choose one of the following themes/categories: Flamingo Disco, Tech bars, Romance bars, Terrace Cafes, Sports Bars, Beach Bars, Office Bars, Summer Festivals, Gamer Cafes or Block Parties.
Closure
Bobba Bar was permanently closed on 07/04/14 due to low user numbers, and the fact that Sulake are looking to move forward to focus their undivided attention on their main business asset, Habbo Hotel. Bobba Bar ran from November 2009, until April 2014, giving it a lifespan of around five years, outliving its predecessor, Mini Friday, which lasted for around a mere three years. Below is the closing notice displayed on the Bobba Bar website from around January 2014 until April 7 when Bobba Bar officially closed down for good: "Latest updates IMPORTANT NOTICE: Dear User, we would like to inform you that Bobba Bar is closing permanently on the 7th of April. Thank you for playing! Should you have any questions, please contact our customer service: cust.support@bobba.com"
Official iTunes Description
VIRTUAL BAR FOR FLIRTING AND HANGING OUT
Meet, chat and flirt with people from all over the world. Grab a free drink in a variety of bars, chill out and mingle.
FEATURES
- Millions of combinations to create your character
- Avatar profiles
- Recommended people
- Powerful messaging with push notifications
- Themed public bars, clubs, cafés
- Buy a place of your own
- Free drinks!
- Easy-to-use speech bubble chat
- Dancing
- International community
MORE INFO: www.bobba.com
TWITTER: @bobba
Images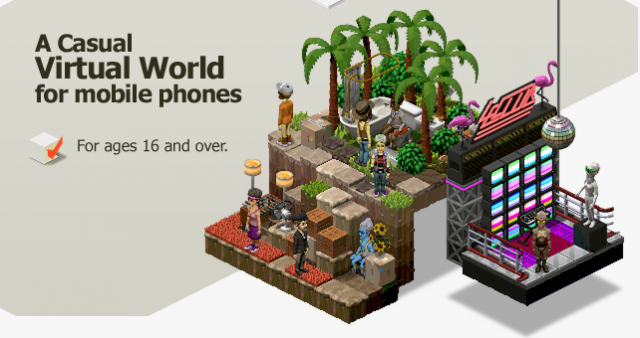 External links
Community content is available under
CC-BY-SA
unless otherwise noted.