---
This article is about the filter prior to its update to *****. For the main article, see Word filter.
Bobba is the name of the notable word filter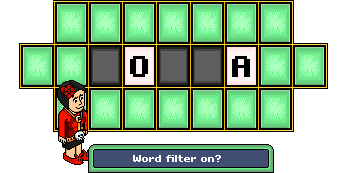 in Habbo that activates when profanities or dates are spoken in the hotel. Putting periods between the letters of the words will not trick the censor. It is possible the word evolved from Hobba (which in turn came from Habbo). It has been removed in the past, but in September 2012 it was brought back as the official Habbo word filter word.
Trivia
Since 28 May 2008, users have the option to turn off the filter for swear words. Turning the filter off however would not stop one from getting punished for over swearing/abuse. Since The Great Mute this feature has also been disabled.
On December the 2nd 2010, a news segment was released saying the word "Bobba" was to be removed. It was out of the system on December 7, 2010.
As of September 2012, it has been reintroduced in the chat filter as the word filter replacement.
The original Hotelli Kultakala version was "Höpö", Finnish for "nonsense".
Official statement by Habbo
"We're making some small changes to the word filter next week.
Just a quick heads up to let you know about a small update taking place on Monday. We noticed that a lot of Habbos no longer use the BOBBA filter inside the Hotel so we'll be changing the way filtered words appear as of next week.
Currently you see the word "BOBBA" when someone says something inappropriate, however this will be switched to "*****". This change will prevent confusing any new Habbos that come to the Hotel. Made up words tend to be confusing, right?
- Fozzie, Smoothcriminal and Puffin - keeping BOBBA forever in our hearts."
Sources