---
Bingo
is a user automated game. It involves the host rolling a Holo Dice or Dicemaster, then each player rolling their dice to try to match the hosts rolled number. There are two versions of this game: Singles and Teams.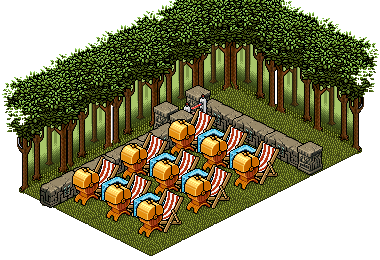 Gameplay
Single Player Version
The game starts out usually with 9 players (for single only version). The host then rolls their dice, and yells out the number they landed on. Then the all the players have to roll their dice to try to match the hosts rolled number. When a person lands on the same number, they have to yell out loud "BINGO" without the quotations. This continues until the last person that hasn't rolled the right number or said "BINGO" that remaining person loses. After the losing person either P2ps, or Revs, or just choses to leave the host asks the remaining players to close the dice so they are at their default state. Then a new round starts.
Team Version
The game has the basic rules of the standard version, except both players have to get the same number as the host and they both have to yell "Team Bingo" or "TB". In this version when there is a P2p option, one player could pay for it but both players get to stay. At the end the team splits up and go to two different sections and then they have to roll both dice and have to try to get the same number as the host. The first person to get both dice to have the same as the hosts wins.
Furni Required
The furni required is the same for both versions.
Dicemasters, or Holodice.
Seats.