---
Alt codes are images that show up when the Alt key on the keyboard is pushed along with a series of numbers using the number pad. These images can be used anywhere in the hotel including chat, private messages, room names, etc. However, some of the Alt codes are not working due to the New Habbo updates. For other ALT-Codes, you can see the site http://alt-codes.org/laptop/ for the other common characters and written help. The video on the site is located below on this page as well! Note that Habbo characters have an equivalent to another ALT code, Habbo just changed the font. So: A Black Heart (ALT+159) is really "ƒ" in standard text.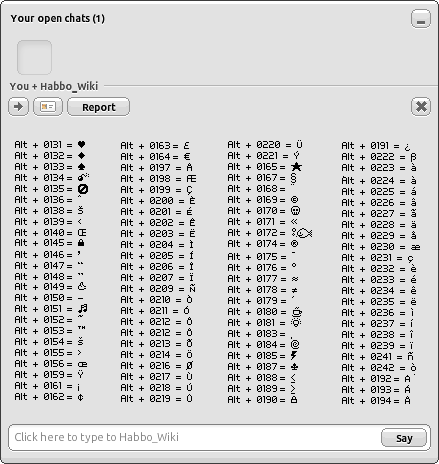 Laptops/Macs
Windows
Many laptops do not have the Number pad like many desktop keyboards. You will need to take advantage of the "FN" (usually blue or pink) key for the separated numbers. See the video blow for more help: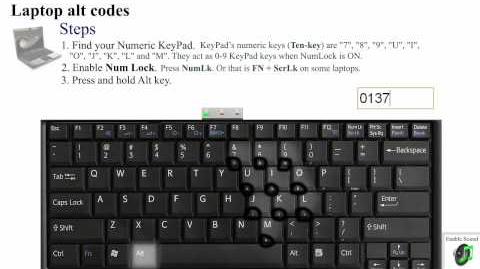 Mac Desktops and Laptops
Go to System Preferences > International Options > Input Menu. Click the box next to "Keyboard Viewer". Make sure "Show input menu in menu bar" is also selected. Depending on the language you have selected, a flag icon will be in the menu bar. Whenever you want to type a special character, click the flag icon in the menu bar and select "Show Keyboard Viewer". When you press Shift and Option, the on screen keyboard will show you that adding the K will make "". As Habbo characters in ALT code are different to ones in real life, you will need to play around with the ALT codes given with MAC.
Common Alt Codes:
The 'Special Characters' on the left, may be simply copied and pasted into chat, to get the desired image!
‡ = Cross Out Sign
| = White Heart
¥ = Black Star
ƒ = Black Heart
í = í
— = Music Note
ª = Skull
º = Lightning Bolt
µ = Cup Of Coffee
± = Cell Phone
÷ = Thumbs Down
• = Thumbs Up
° = °
¡ = ¡
¿ = ¿
¶ = Light bulb
™ = ™
õ = Spades
© = ©
® = ®
' = Black Padlock
¢ = ¢
§ = §
£ = £
é = é
Ø = Ø
Õ = Diamond
† = Bomb
¬ = Fish
» = Club
½ = ½